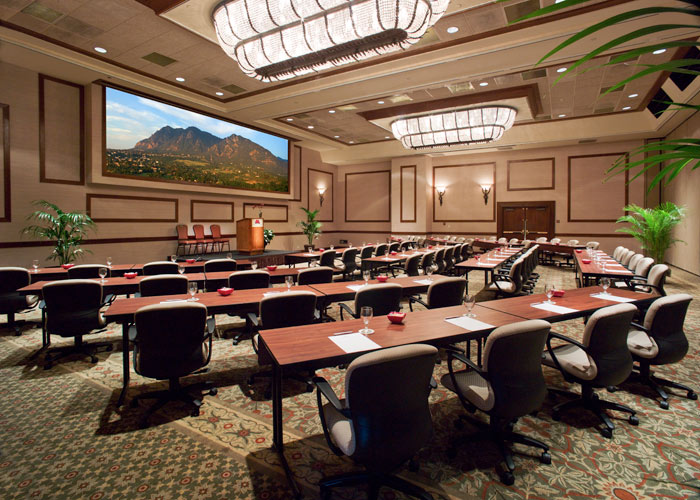 2014 Conference Program
2014 Conference Program
45th Annual Colorado ILL Conference Schedule, Cheyenne Mountain Resort, Colorado Springs, CO
THURSDAY, MAY 1st
8:00am-9:00am Mountain View Restaurant
Registration and Full Breakfast Buffet 

9:00-9:15am – Centennial Ballroom (All presentations in Centennial Ballroom unless otherwise noted)
Welcome from Conference Chair, Rachel Fewell, Denver Public Library
9:15-9:30am
Welcome from Pikes Peak Library District Executive Director, Paula J. Miller
9:30-10:30am The Importance of Access in the 21st Century Library
Martin Garnar, Reference Services Librarian at Regis University and Professor of Library Science at the University of Denver
As library acquisition models continue to shift from purchasing to licensing, there are increasing concerns about preserving our important principles of information access and resource sharing.  Will libraries continue to be at the forefront of cooperation, or will we turn into disconnected silos serving our separate communities?
Join us for an interactive discussion about the challenges we face and what we can do to maintain our historic traditions of collaboration.

10:30-10:45am
Break
10:45am-12:00pm ILL in the Real World: Researchers and Their Use of ILL
• James Hagadorn, Geologist, Denver Museum of Nature and Science
• Tom Napierkowski, Medieval and Immigrant American Literature, University of Colorado, Colorado Springs
• Dr. Robert Sackett, Professor of History, University of Colorado, Colorado Springs
12:00-1:00pm
Full Lunch Buffet
1:00-2:00pm    Cataloging to Support Discovery: New options and Tools
David Whitehair, OCLC
2:00-3:15pm    WorldShare ILL Tips and Tricks
Lisa Carlucci Thomas, OCLC WorldShare ILL Trainer
3:15-3:30pm
Break
3:30-5:00pm    This is a Clue – Team Building Through Library Related Trivia
5:00-6:30pm    Grand Rivers Terrace
Reception
FRIDAY, MAY 2nd
7:30am-8:30am Mountain View Restaurant
Registration and Full Breakfast Buffet
8:30-8:35am Centennial Ballroom
Welcome back from Conference Chair, Rachel Fewell, Denver Public Library
8:35am-9am The future of interoperability for ILL and Resource Sharing
Clare MacKeigan, Relais International
9:00am-10:00am OCLC Update Session
Katie Birch, Portfolio Director for Delivery Services at OCLC
10:00-10:30am
Break
10:30am-11:30am Bicycle Book Delivery
Molly Murphy, Document Delivery Librarian, University of Oklahoma Libraries
11:30am-12:30pm  ILL Prototyping Session
Rachel Fewell, Denver Public Library
Lori Smith, Colorado State Library